HALO Diagnostics is proud to now offer TULSA-PRO® as a treatment for prostate cancer and BPH. Dr. Ara Karamanian, head of HALO Dx's Prostate Program, performs the procedure for the Prostate Laser Center, a HALO Dx company.
For those with prostate cancer or benign prostatic hyperplasia (BPH), TULSA-PRO® and Laser Focal Therapy (LFT) may both be relevant treatment options. However, every man is different, and so are their prostate concerns. It's always best to do your research and talk with your doctor to find a treatment that's right for you.
| | | | |
| --- | --- | --- | --- |
| | TULSA-PRO | Laser Focal Therapy | Radical Prostatectomy |
| Customizable treatment planning | | | |
| Partial gland ablation | | | |
| Whole gland ablation | | | |
| Minimally-invasive & radiation-free | | | |
| Can be used to treat BPH | | | |
| Real-time temperature monitoring | | | |
| Procedure length | 2-3 hours | 2-4 hours | 2-4 hours + 1-3 day hospital stay |
| Outpatient | | | |
| General anesthesia not required | | | |
| Precise ablation near critical structures | | | |
| Repeatable & leaves options open for other treatment later on if needed | | | |
Dr. Ara Karamanian, a board-certified vascular and interventional radiologist and diagnostic radiologist, performs both procedures in an outpatient setting utilizing a state-of-the-art 3T MRI suite. The MR imaging provides a multi-dimensional view of the prostate in real-time, as well as constant thermal feedback during treatment. This allows Dr. Karamanian to constantly monitor the temperature of ablation areas and boundaries.
Lower Risk of Side Effects Compared to Conventional Whole Gland Procedures Like Radical Prostatectomy
Both LFT, also known as Focal Laser Ablation (FLA), and TULSA-PRO were designed to reduce the risk of collateral damage to the vital structures surrounding the prostate responsible for erectile, bowel, and urinary function.
The often prescribed radical whole gland prostatectomy (even if robotic or laparoscopic) has a 50% risk of causing erectile dysfunction, and a 25% risk of causing incontinence[i].
The ongoing TULSA-PRO® Ablation Clinical Trial (TACT) recently published in the Journal of Urology studied >100 men with primarily intermediate-risk prostate cancer and whole gland ablation. The study reported that one year after the procedure, 75% of previously potent patients were able to maintain erections sufficient for penetration. Less than one percent of patients reported urinary incontinence (>1 pad/day) after one year and 96.2% reported leak-free continence (leak <1 time/day). No patients experienced rectal injury or rectal fistula [ii][iii}.
Interim results of HALO Dx's ongoing twenty-year Laser Focal Therapy clinical trial involving more than 180 men showed participants experienced no statistically significant erectile dysfunction or urinary incontinence[iv].
Ablation Area
LFT and TULSA-PRO differ in the amount of prostate tissue they may be used to treat. Both procedures use heat to destroy prostate tissue, a process also known as ablation. LFT delivers therapeutic heat directly into cancerous lesions via an infrared laser. During a TULSA procedure, thermal energy is produced by an ultrasound device inserted in the urethra.
In a study published by HALO Dx's Dr. John Feller and Bernadette Greenwood that treated patients for 1 or 2 localized cancerous lesions, the estimated volume of each lesion was less than 2 cubic centimeters, and the maximum ablation diameter was 15 millimeters[v]. Larger prostate zones can be ablated by retracing the laser and repeating ablations, or by inserting the laser in another location. For ablations of tumors near sensitive structures, Dr. Karamanian says that the precision of FLA is key. "When every fraction of a millimeter counts, such as when ablating near a nerve bundle, FLA is usually the way to go," says Dr. Karamanian.
Pictured above: MR images of a prostate with a lesion near a nerve bundle before (left), during (middle), and after (right) FLA procedure
The TULSA transurethral device features 10 transducers that can be programmed to deliver heat to a different depth of up to 30 millimeters. Dr. Karamanian determines the heat trajectory for each one with MRI and draws ablation boundary lines accordingly. The system can treat regions up to 60mm in diameter and 50mm in length. According to Profound, makers of the TULSA system, TULSA-PRO has been used to treat prostates with a volume of up to 250cc.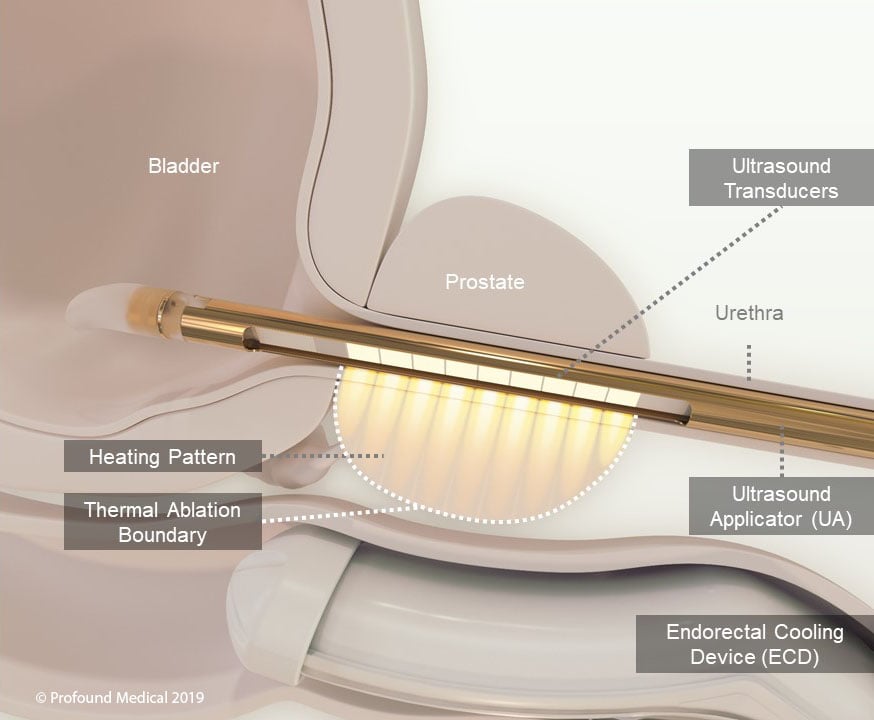 Pictured above: the TULSA-PRO system
"TULSA-PRO can cover more territory more easily, so I prefer TULSA-PRO for large lesions and for more diffuse disease," said Dr. Karamanian. Diffuse means that there are multiple cancerous lesions spread out across more regions of the prostate.
Video: 3D simulation of the TULSA-PRO system during treatment
Both FLA and TULSA-PRO Can Treat BPH
Laser ablation and TULSA-PRO can ease the symptoms of BPH (benign prostatic hyperplasia)[vi]. BPH, also known as enlarged prostate, can cause cells to overpopulate the prostate gland. This creates excess tissue that crowds and squeezes the urethra and the bladder neck. That pressure is what usually causes common BPH symptoms like frequent urges to pee, starting and stopping, feeling the need to force it, and nocturia. Laser Ablation and TULSA-PRO can be used to improve function by ablating excess tissue and giving the urethra room to relax. With FLA for BPH, most men return to baseline urinary function in three weeks (plus or minus a week) and have significant improvement 2-3 months following the procedure. With TULSA-PRO, BPH patients can expect a similar recovery time.
HALO Diagnostics Chief Medical Officer, Dr. John Feller says that with the addition of TULSA-PRO, the future of men's health looks bright at HALO Dx. "As a pioneer in prostate cancer therapeutics, HALO Dx is committed to giving men a choice. Each option gives men a better chance at maintaining a normal life."
Dr. Karamanian agrees. "We are focused on providing men with personalized and precision-focused healthcare. The addition of TULSA-PRO means that we can now do that for even more men, and I'm happy to be able to serve more people."
If it sounds like you or a loved one may be a candidate for either TULSA-PRO or Laser Focal Therapy, schedule a consultation either by filling out the form at the bottom of the page, or call (877)-225-2831
You should always consult with your doctor(s) when considering treatment options. HALO Dx provides MRI-guided prostate screenings, MRI-guided prostate biopsy, liquid "biopsy" tests, and genomic testing to facilitate informed decisions between doctors and patients. With the appropriate diagnostic results, our prostate disease experts help you answer the following questions:
Am I a candidate for whole gland or partial ablation?
Is my cancer located in close proximity to the neurovascular bundles or other vital structures?
Should I have further testing performed before undergoing treatment?
---
[i] McCullough AR. Sexual dysfunction after radical prostatectomy. Rev Urol. 2005;7 Suppl 2(Suppl 2):S3-S10.
[ii] https://profoundmedical.com/wp-content/uploads/2020/02/2019.04.04-TACT-for-Profound-Website_20190404_1445_corrected.pdf
[iii] https://www.globenewswire.com/news-release/2019/04/04/1797449/0/en/Profound-Medical-Announces-Positive-Topline-Results-from-TACT-Pivotal-Clinical-Trial-of-TULSA-PRO-in-Patients-with-Prostate-Cancer.html
[iv] Feller, John. "Current and Emerging Role of Radiogenomics in Risk Assessment." October 2020. Accessed Aug 2021. https://grandroundsinurology.com/current-and-emerging-role-of-radiogenomics-for-prostate-cancer/
[v] Feller, John F., Bernadette M. Greenwood, and R. Jason Stafford. "Transrectal Laser Focal Therapy of Prostate Cancer." Imaging and Focal Therapy of Early Prostate Cancer. Springer, Cham, (2017). 325-343.
[vi] Viitala, A. & Anttinen, M. & Mäkelä, P. & Suomi, Visa & Sainio, T. & Taimen, Pekka & Boström, Peter & Sequeiros, R.B.. (2020). Transurethral ultrasound therapy for benign prostatic obstruction in humans. European Urology Open Science. 19. e997. 10.1016/S2666-1683(20)33249-3.